601 Black Hills Drive, Clarkdale, AZ 86324   |   (928) 634-6566
Open to the public Thursday through Sunday from noon to 6 PM.
Our goal is to:
Educate about the art + science of growing wine grapes and winemaking.
Serve our excellent, award-winning student-crafted wines.
Reserve time with our knowledgeable staff in order to:
Answer your questions about growing wine grapes and winemaking.
Experience a flight of five student-crafted wines grown and crafted at our estate vineyard and winery.
Learn more about the viticulture and enology program at Yavapai College.
*Walk-in guests (no reservation) may be accommodated, space available, on our outside patio for glass and bottle purchases only.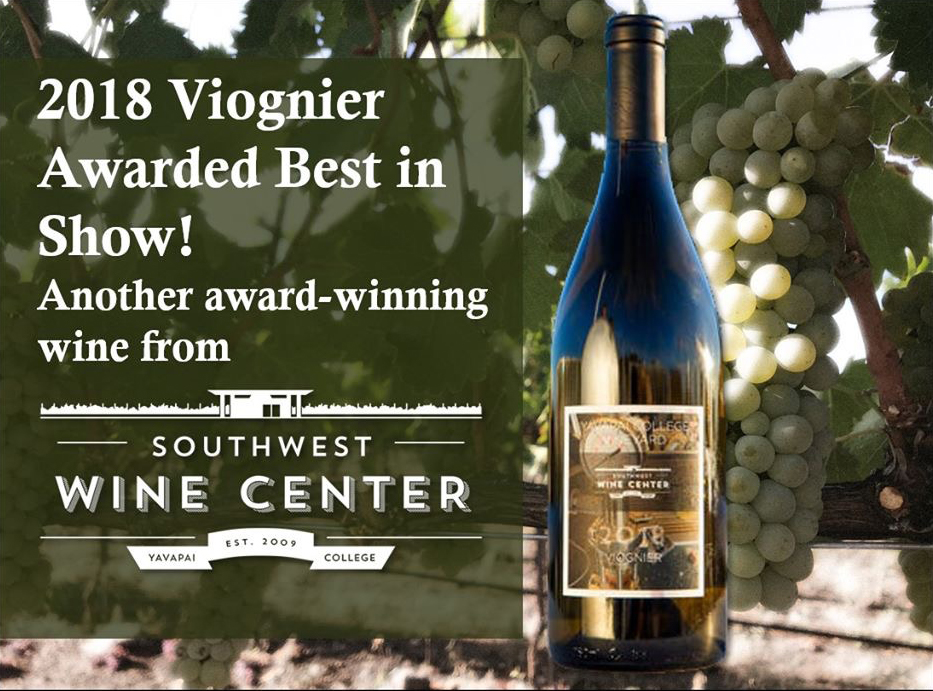 2021 Jefferson Cup
Gold Medal – 2019 Refosco
Silver Medal – 2020 Tarantula Red
(Red Blend)
Silver Medal – 2019 Poetry (Red Blend)
Silver Medal – 2020 Night Sky (Red Blend)

2020 AZ Central
Grand Wine Competition
Best in Class – 2019 Viognier
Silver Medal –
2018 Hopper, 2018 Delta & 2019 Joy
Bronze Medal –
2018 Cabernet Sauvignon, 2018 Noble One & 2019 Piquepoul Blanc

2019 AZ Central
Grand Wine Competition
Best in Show – 2018 Viognier
Best White Wine – 2018 Viognier
Best in Class – 2018 Viognier
Best Viognier – 2018 Viognier
Best in Class – 2018 Malvasia Bianca
Double Gold Medal – 2018 Carignan
Double Gold Medal – 2018 Refosco
Silver Medal – 2018 Nopal (Grenache Rosé)
Silver Medal – 2018 Big Red (red blend)
2019 Jefferson Cup
Gold Medal – 2018 Refosco
Silver Medal – 2018 Carignan
Bronze Medal – 2017 Tempranillo
2019 San Francisco
Chronicle Wine Competition
Double Gold Medal – 2018 Malvasia Bianca
Gold Medal – 2018 Big Red (red blend)
Silver Medal – 2017 Tempranillo
2018 AZ Republic
Grand Wine Competition
Double Gold Medal – 2017 Patada
Silver Medal –  2017 Malvasia Bianca
Best Graciano – 2nd place
2017 Graciano
Best Non-Traditional Red
3rd place – 2017 Patada
Growers Cup:
Best White Wine – 3rd place
2017 Malvasia Bianca
Best Malvasia Bianca – 3rd place
2017 Malvasia Bianca
Wines of Distinction – Bronze Medal
2017 Red Storm & 2017 Graciano
2018 Jefferson Cup
Double Gold Medal – 2017 Red Storm
Silver Medal – 2017 Malvasia Bianca
2018 San Francisco
Chronicle Wine Competition
Silver Medal – 2017 Patada
Bronze Medal – 2017 Passport
2017 AZ Central
Grand Wine Competition
Growers Cup + 1st place Gold Medal
Best Rosé – 2017 Amphoria
Best Non-Traditional Red
2016 Puente
Wines of Distinction – Bronze Medal
2016 Triad & 2016 Convergence
2017 Jefferson Cup
Jefferson Cup – 2016 Mourvèdre
Silver Medal – 2015 Viognier
2016 Sunset International
Wine Competition
Gold Medal + Best in Class
2016 Sunlight (white blend)
2016 AZ Central
Grand Wine Competition
Best Petite Sirah
2015 Petite Sirah
Best Sauvignon Blanc
2015 Sauvignon Blanc
2015 AZ Central
Grand Wine Competition
Silver Medal
2014 Viognier & 2014 Grenache
Bronze Medal
2014 Syrah & 2014 Petite Sirah